Deberny Font Download
Submitted by fontstypo on Sat, 04/01/2017 - 09:06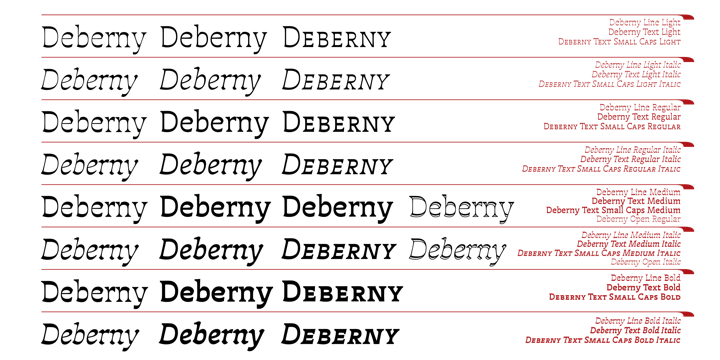 Deberny Font Download Font Information
The Deberny typeface is an interpretation–carrying a contemporary imprint–of a typographic style which
appeared and spread at the end of the 19th century until the begining of the 20th.
These typefaces were named Italian, Venetian, Veronese and were classified in the Hellenic category, a spontaneous typographic movement caracterized by triangular and heavy serifs. They found their inspiration among numerous references, from incised to slab serif typefaces and their extreme expressions in wood type letterforms.
The Deberny font family is made of 26 styles in 3 complementary sets of style, offering a wide palette of visual resonance:
• Deberny Line is ideally suited for editorial, branding, posters and billboards. It has sharp contrast between thick and thin strokes. Heavy horizontal strokes are not frequent in roman letters, but here they fit naturally with the italic letters.
• Deberny Open is a stylish outline declination of Deberny Line Medium and Medium Italic.
• Deberny Text is an adaptation of Deberny Line made for broader use. Its shapes are less contrasted, which makes it perfectly legible for print or screen reading in small size text. Old style figures and small caps complete Deberny Text in all its 8 styles.
The Deberny typeface family supports Latin-based languages and will be available soon in Cyrillic and Greek.
Deberny Narrow will be released this year in all its 26 styles.